Venue
MEETING LOCATION
National Institutes of Health – Main Campus
9000 Rockville Pike
Bethesda, MD 20814
Building 45 - Natcher Conference Center
Please note: attendees are responsible for arranging and reserving their own travel, including transportation and hotel accommodations. 
SECURITY
It is recommended attendees arrive to NIH at 9:15am ET for the meeting to allow time for navigating to the Natcher Conference Center and checking in at registration. Please remember to bring your NIH badge with you.
Refer to the Employee Campus Access (nih.gov) for more details on entering the NIH campus.
TRANSPORTATION
For NIH Employee transportation and parking services, please visit: Employee Shuttles (nih.gov)
Public Transit
If possible, it is encouraged to use public transportation such as the Metrorail subway system which has a convenient stop (Medical Center) on the NIH campus. Visit the "Metro" site for fares and schedules.
Take Metro's Red Line to the Medical Center Station. The station's escalators come out on the NIH campus. To get to the NATCHER building, walk from the top of the escalator past the bus stops down South Drive. Cross the street and veer left onto Center Drive. Remain on Center Drive as it veers right until your reach the NATCHER Conference Center.
CAMPUS MAP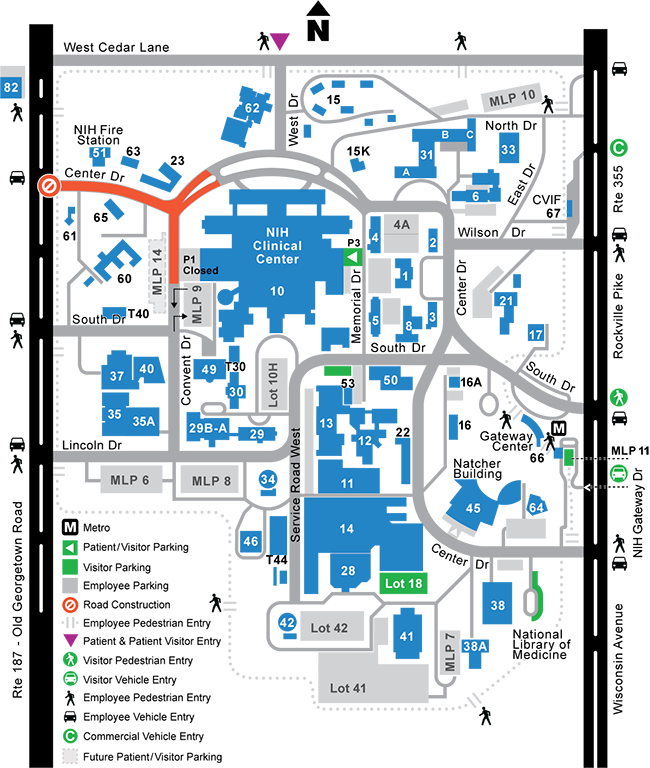 NIH CAMPUS DINING OPTIONS
Attendees will be responsible for providing their own food, beverages, and snacks. Campus dining options are listed below.
Building 10 and Building 50 have a coffee bar available.
Building 31 has a cafeteria with full-seating. The weekly menu can be found on the Building 31 (nih.gov)page.
Food trucks are located near Building 10H Parking Lot (weather permitting). See the R&W Webpage for more information.