Speaker Bios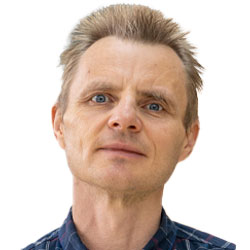 Tomasz Cierpicki, PhD
Associate Professor, Department of Pathology, University of Michigan
Dr. Cierpicki is an Associate Professor in the Department of Pathology at the University of Michigan. Dr. Cierpicki research interests are in the area of chemical biology and cancer epigenetics. Dr. Cierpicki's laboratory has developed first-in-class inhibitors of the menin-MLL interaction as a new potential therapeutic strategy in MLL leukemias. Current efforts are focused on development of small molecule inhibitors targeting cancer related epigenetic proteins, such as PRC1, NSD and ASH1L histone methyltransferases, and GAS41. Dr. Cierpicki received MSc in chemistry from the Department of Chemistry, Wrocław University of Technology in Poland and PhD in biochemistry from the Department of Biochemistry and Molecular Biology; University of Wrocław in Poland.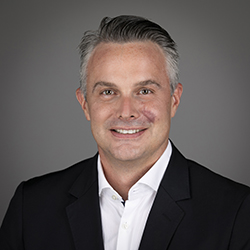 Matthew Disney, PhD
Professor, Department of Chemistry, UF Scripps Biomedical Research
Dr. Disney is a Professor in the Department of Chemistry at Scripps Research (now known as UF Scripps Biomedical Research). Dr. Disney's laboratory works in the area of small molecule targeting of RNA, addressing fundamental questions surrounding the molecular recognition of RNA folds by small molecules to study problems of biomedical importance. Applications have included development of sequence-based design of small molecules, on-site drug synthesis in disease-affected cells, understanding the biology of coding and non-coding RNAs, and interfacing RNAs with quality control machinery, the latter including small molecule degraders and chimeric degrading compounds. Dr. Disney received his B.S. from the University of Maryland, and Ph.D. from the University of Rochester in Physical Chemistry under the guidance of Professor Douglas H. Turner. Dr. Disney then completed postdoctoral training at the Massachusetts Institute of Technology and the Swiss Federal Institute of Technology (ETH; Zürich, Switzerland) in Professor Peter H. Seeberger's lab.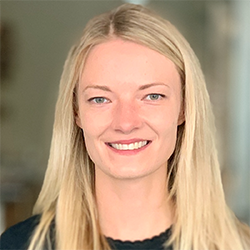 Fleur Ferguson, PhD
Assistant Professor, Department of Chemistry & Biochemistry and the Skaggs School of Pharmacy and Pharmaceutical Sciences, University of California, San Diego
Dr. Ferguson is an Assistant Professor in the Department of Chemistry & Biochemistry and the Skaggs School of Pharmacy and Pharmaceutical Sciences, at the University of California, San Diego. Dr. Ferguson's research focuses on expansion and development of targeted protein degradation and proximity-mediated pharmacology strategies, and applying them to either interrogate biological questions, or develop new therapeutics. Dr. Ferguson received her M.Sc in chemistry from Imperial College London, and Ph.D in chemistry from the University of Cambridge, supervised by Prof. Chris Abell and Prof. Alessio Ciulli. Dr. Ferguson performed postdoctoral research in the laboratory of Prof. Nathanael S. Gray at Harvard Medical School and Dana-Farber Cancer Institute.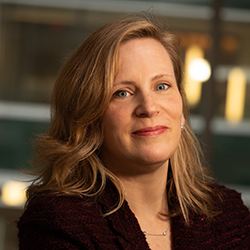 Angela Koehler, PhD
Associate Professor, Biological Engineering, and Associate Director, Koch Institute for Integrative Cancer Research, Massachusetts Institute of Technology
Dr. Koehler is an Associate Professor in the Department of Biological Engineering at MIT and an Associate Director of the David H. Koch Institute for Integrative Cancer Research at MIT. Dr. Koehler is also an Institute Member of the Broad Institute and a Founding Member of the MIT Center for Precision Cancer Medicine. Dr. Koehler's research group aims to discover and develop functional small-molecule probes of targets emerging from patient-based genomics, including targets deemed recalcitrant to small molecule drug discovery efforts, such as transcription factors, RNA-binding proteins, or cytokines. Dr. Koehler received her B.A. in Biochemistry and Molecular Biology from Reed College and Ph.D. in Chemistry from Harvard University. Dr. Koehler was then an Institute Fellow in the Chemical Biology Program at the Broad Institute and a Group Leader for the NCI Initiative for Chemical Genetics.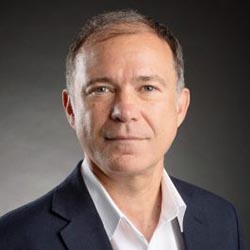 Zoran Rankovic, PhD
Director, Chemistry Centers for Chemical Biology & Therapeutics, St. Jude Children's Research Hospital
Dr. Rankovic directs the Chemistry Centers at the Department of Chemical Biology and Therapeutics at St. Jude Children's Research Hospital. Since joining St. Jude, Dr. Rankovic's research interests have focused on developing protein degraders and epigenetic modulators for the treatment of pediatric cancers. Prior to joining St. Jude, Dr. Rankovic held various leadership appointments at Organon UK and then as director and research fellow at Schering-Plough, Merck, and Eli Lilly, throughout which time he led teams in neurooncology, neurodegeneration, psychiatry and cardiovascular disorders. Dr. Rankovic received his Ph.D. in organic chemistry from the University of Leeds, UK.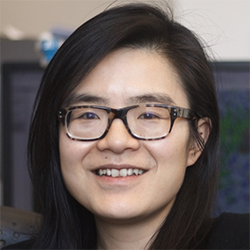 Huan Rui, PhD
Senior Scientist, Computational Chemistry, Amgen
Dr. Rui is a senior scientist at Amgen specializing in computational chemistry. Dr. Rui currently leads the computational efforts for the induced proximity platform at Amgen, where her research interests include using molecular dynamics and free energy simulations to study biological systems and applying machine-learning techniques to augment physics-based modeling. Dr. Rui received her Ph.D. in computational chemistry from University of Kansas and conducted post-doctoral research at University of Chicago studying conformational transitions of membrane proteins and their implications on function.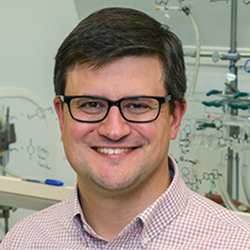 John 'Jay' Schneekloth, PhD
Senior Investigator, Chemical Biology Laboratory, National Cancer Institute
Dr. Schneekloth is a senior investigator in the Chemical Biology Laboratory as part of the Center for Cancer Research (CCR) at the NCI. Dr. Schneekloth's research integrates chemical biology, medicinal chemistry, structural biology, and functional genomics to understand and control RNA targets with small molecules. In addition to making fundamental advances in understanding RNA-small molecule recognition, Dr. Schneekloth has demonstrated that druglike compounds are suitable starting points for inhibitor discovery efforts for RNA targets. Dr. Schneekloth received his undergraduate degree from Dartmouth College and obtained a Ph.D. at Yale under the direction of Prof. Craig Crews. Dr. Schneekloth was an NIH postdoctoral fellow at Princeton University and then worked as a medicinal chemist at the Yale Small Molecule Discovery Center prior to joining NCI.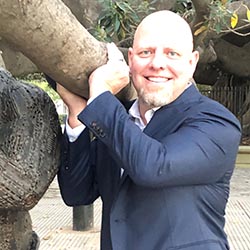 Brandon Turunen, PhD
Head, US Chemical Biology, GlaxoSmithKline
brandon.j.turunen@gsk.com
Dr. Turunen is currently Head of US Chemical Biology for GSK where he leads a global team focused on translating immunology, oncology, and human genetic insights into medicines. During his tenure with GSK which started in 2007, he has held various leadership roles to support oncology programs as a medicinal chemistry leader during which time he has successfully proposed new research areas to develop synthetic agents to create and control human immunity. Dr. Turunen also held an appointment in London as part of the CEO's Future Strategy Group to develop a corporate strategy for improving access to GSK medicines and was head of GSK's Synthetic Immunology Discovery Performance Unit. Dr. Turunen completed PhD studies with Gunda I. Georg at the University of Kansas before completing NIH post-doctoral studies at Stanford University in the laboratory of Barry M. Trost.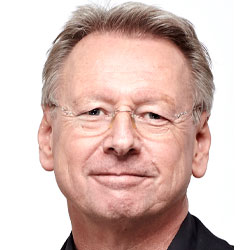 Paul Workman, PhD, FRS
Harrap Professor of Pharmacology and Therapeutics, Team Leader, Institute of Cancer Research (ICR), London, UK
Dr. Workman is the Harrap Professor of Pharmacology and Therapeutics, and a Team Leader, at the Institute of Cancer Research (ICR), London. Until recently Dr. Workman served as Chief Executive of ICR (2014-21) and was previously ICR's Deputy CEO (2011-14), and Founding Director of the CRUK Convergence Science Centre and its precursor at ICR and Imperial College, London (2016-20). He was also Director of the ICR's CRUK Cancer Therapeutics Unit (CTU) for nearly two decades. Under his leadership, since 2005, the CTU was instrumental in the discovery of twenty drug development candidates, twelve of which have progressed into clinical trials. Dr. Workman's prior appointments included at the Universities of Cambridge (MRC Oncology Unit), Stanford (UICC Visiting Fellow), and Glasgow (CRUK Beatson Laboratories), and in the cancer drug discovery leadership team at Zeneca Pharmaceuticals (now AstraZeneca) where he led the biology in the project that discovered gefitinib (Iressa). Dr. Workman holds a PhD in cancer pharmacology from the University of Leeds.