Venue and Directions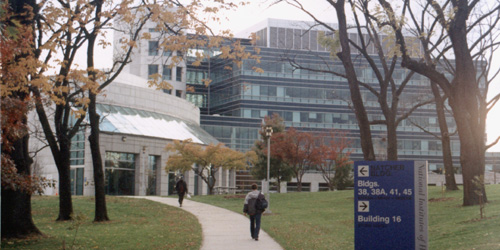 Please refer to the following information for directions on getting to the NIH main campus, instructions for getting through the security process, and directions for finding the Natcher Building - building #45.
Getting to NIH Main Campus
NIH main campus is located at 9000 Rockville Pike., Bethesda, Maryland. Visitors are strongly encouraged to use public transportation to get to campus.
By Metro
Visitors can take the Red Line Shady Grove Metrorail to the Medical Center Metro stop which is conveniently located outside the NIH visitor center. For information on where to board the Red Line, information on fares, and schedules, visit the Washington Metropolitan Area Transit Authority "Metro" site.
By Car
All visitors must enter through the NIH Gateway Center, located adjacent to the Medical Center Metro Station at the South Drive entrance to campus from Rockville Pike / Wisconsin Avenue (Route 355). If you are parking within NIH, security personnel at the gate will inspect your car and process your visitor ID before allowing admittance to NIH Main campus. Those parking off campus do not require a vehicle inspection.
Visitor parking is limited to:
Primary visitor parking lot, MLP-11, a 342-space, multi-level underground parking garage outside of the NIH perimeter (vehicles do not require inspection). The cost to park in MLP-11 is $2 per hour for the first three hours, $12 maximum for the entire day. This is the same rate currently charged for all visitor parking at the NIH.
Please see the NIH visitor map for additional visitor parking lots on NIH campus, including stacked parking locations (such as Lot 4A). For stacked parking locations, attendants will direct drivers to the appropriate location. Drivers must leave their ignition keys with the attendants and will receive a claim ticket for verification upon picking up their vehicle. More information about attendant-assisted parking can be found at https://www.ors.od.nih.gov/pes/dats/parking/Pages/parking_attended.aspx
By Bus
Various Montgomery County Ride-On bus routes service NIH Main Campus. These buses all have bike racks. Additionally, the Maryland Transit Administration (MTA) offers commuter bus routes to NIH Main Campus. Use the Washington Metropolitan Area Transit Authority trip planner to plan your commute.
Getting Through Security
Security screening is required for access to the National Institutes of Health (NIH) campus. Please arrive early to allow ample time for security procedures, which can take as long as 30 minutes:
Find the NIH Gateway Center (bldg. 66), located adjacent to the Medical Center Metro.
Be prepared to submit to a personal inspection prior to entering the campus. If you are driving, your vehicle will also be inspected at the Gateway center.
Provide a government-issued ID such as a driver's license or passport. Visitors under 16 years of age must be accompanied by an adult.
Inform security personnel that you are attending a conference at the John Edward Porter Neuroscience Research Center.
Keep your visitor badge visible on your person.
Additional information about the security process and visiting NIH, can be found at https://www.nih.gov/about-nih/visitor-information/campus-access-security.
Note: For visitors from foreign countries with non-U.S. citizenship, additional pre-clearance is required to visit NIH Main Campus and may take up to ten days to complete. Please email us at NCIParticipantShareData@mail.nih.gov at least two weeks before the meeting if you plan on attending. One of our team members will reach out with additional information to help you.
Getting the Natcher Building 45
Building 45 is directly across from NIH Visitor Gateway Center (see below) and is a short walk from this entrance.